Aurora city police issued a warning Monday about A-1 Discount Towing, a
towing company
which has been the subject of controversy in the community for several years.
Police said the Illinois Commerce Commission has confirmed that Buckeye Towing, which did business as
A-1 Discount Towing
, should not be towing vehicles from private property without the permission of the vehicle owner or operator.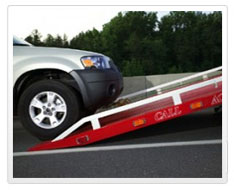 A-1 formerly held a relocating towing license through the ICC and had hundreds of contracts with various firms to tow vehicles illegally parked on private lots. Police said that anyone who has a vehicle towed from a lot that is marked with A-1 signage should not have to pay to get it back. Anyone finding themselves in this situation is urged to call Aurora police at 630-256-5000.
Police also are urging anyone who sees A-1 towing vehicles from private lots in the city to call police. A-1 Discount Towing created a stir in the community in 2007 when it towed dozens of cars from private businesses during downtown festivals sponsored by Aurora and Montgomery. Charges were even filed against A-1 employees.
At the time, Aurora Mayor Tom Weisner called the company's aggressive tactics a "nemesis" to what Aurora was trying to accomplish at the fun family events.